A while ago I figured out why I have always been a baseball fan. Sport – particularly that one – is analog. Drama gets played out on the field that we see in our lives. It's a replay or a sidebar to all that has happened or is happening. The characters have similar analogs – pitchers are those who put their best foot forward and present their goods, skills and personalities. Batters are those who – a third of the time at best – send them packing. And they do it by being scrappy – bunting, beating out an infield hit or Texas-leaguer – or masterful – culminating in the grand slam home run.
There are two teams with management and strategy honed for each game and each season.
And there are .. umpires.
I was watching the Red Sox bat in the 9th inning at Yankee Stadium last night. Here's another reason I'm a baseball fan – you can't script this stuff. Of course bases loaded. David Ortiz is up. He strikes out. Not because there were 3 strikes thrown, there was one (ok if pitch 5 was a strike there were 2). He is called out on strikes that were not strikes. Here's the pitch placement: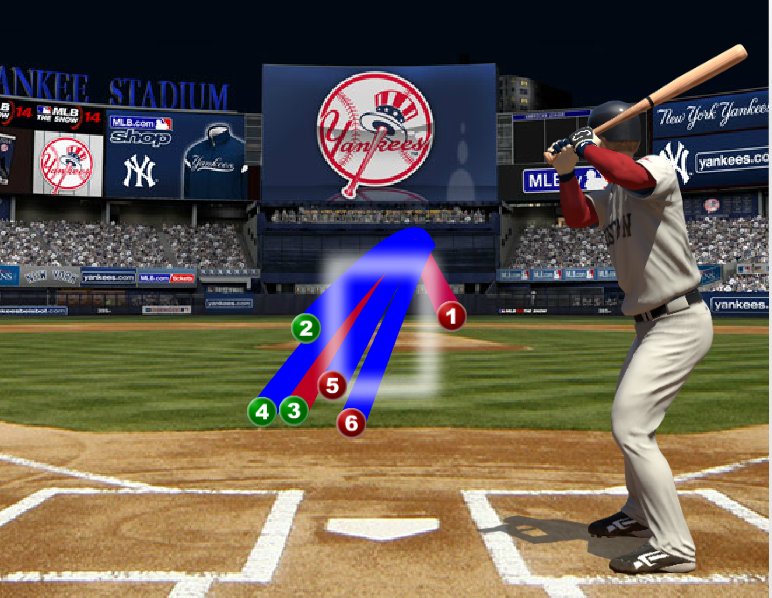 Umpire Ron Kulpa is an evil villain today in Red Sox nation as he would be among any fan base rooting for the team that he victimized. And I'm sure his performance will be analyzed by the big wigs in MLB and maybe something will come of it.
But I'm more interested in the analog, as I said above.
So first, who are the umpires in our lives? That's pretty easy – they are or bosses, the authorities, the government. And I must include God, as we perceive God.
And it's no wonder why people get so steamed when they get it wrong; when our players get judged unfairly. But the analog is deep, and deeply instructional, because when umps mess up:
We are reminded who our authorities are. That is, who has power over us. Sometimes we can change who they are, sometimes not. But there are ultimately two responses to the rule of authority – acquiescence or rebellion. In the face of injustice, both are perilous. The former because it can ignore what's really inside of us and the latter because it considers our position higher than it is and, as St. Paul said of the authority – "he does not bear the sword for nothing."
We see disappointments that had nothing to do with us. Our projects are canceled, we lose our jobs or even more tragically, our marriages or families. Again, it had nothing to do with us. But we struggle to believe that because we know we're not perfect. Because in disappointment we always try to find a reason so we can try to avoid it next time. So we blame. Ourselves. Now it might be true that we did have something – and maybe a lot – to do with it.  That is, it wasn't a bad call after all.  But the truth is that the tendency to blame ourselves is universally overblown.
We learn – erroneously – that we can't trust as much as we thought. Multiple bad calls forge patterns in our emotions. This can get dangerously generalized to the point that we view all the world as hostile. That blossoms into operational and even clinical paranoia. The trick here is to isolate the bad call, see it in situational and relational context. If there is a pattern, identify all the patterns, not just the ones that dealt us a bad hand. And big point – see the hand of God as always for us, even when we are disappointed. God's goal is our redemption. Always. Thus, God can be trusted. Always.
We fail to move on. There will be another game, another day, a different and fair umpire. Adopting futility will do nothing but take us down a dark hole. Different than trust issues, this takes us into depression – seeing things worse than they really are. People still love us. We're still talented, desirable and valuable. A bad call, or a bad ump can't change any of that.
Like many reading this, for me there is a flip side. I have also been an umpire. Who made bad calls. Often there's nothing I can do to fix the error; either the people are gone or just won't talk about it. To be sure, I made good calls that weren't accepted either. No one is perfect, and the place where our imperfections hurt the most are when we are leaders.
Grace, humility, mercy and forgiveness are what get me through the day and through life. Because the umpires calling my game get it wrong. Many times. Humility calls me to remember when they got it right too. And honesty says that is most of the time.
Let's go Red Sox!